Vintage Polished Walnut Schuler Pool Cue, Signed, Set-Up and Delivered by Ray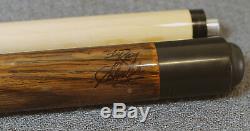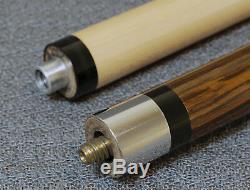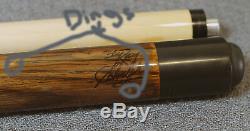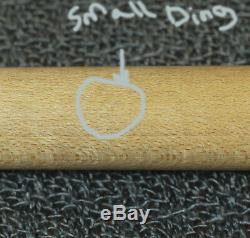 Vintage Polished Walnut Schuler Pool Cue, Signed, Set-Up and Delivered by Ray. In the 1990s I used to live in Palatine Illinois.
Quite often I used to have to run to the post office on Colfax Ave. I kept driving by a little industrial looking building with a sign up front that advertised Ray Schuler, Custom Cues. Inside I was greeted by a tall, trim older man with a cigar butt chomped on one side of his mouth. He introduced himself to me as Ray Schuler and gave me a guided tour of the facility. He showed me his CNC machine for the intricate inlay work, and we discussed the differences in the various cues that he made. Ray and I then discussed what size table I owned, how I was going to use the cue (for break or not, for masse or not, etc). Then he gave me various cues to shoot with. Candidly, I do not remember if I made practice strokes on an ancient full size Billiard Table, or a pocket billiard table, but the bottom line is that we were able to figure out what length, weight and balance I was most comfortable with. Then we started discussing various models. I personally prefer a very simple unwrapped cue. For some reason I never really liked stroking with a wrapped cue. Extra embellishments did a great job of driving up price, but according to Ray really did not add much to the performance of the cue. Ray then picked out for me a recently completed (Walnut I think) Cue, removed the rubber off of the butt and then proceeded to insert spacers and weights to set the cue up for me. He picked out a new shaft and then had me make some test strokes.
It had such a great feel to it, I was still smiling; even when he gave me the bill. My mind has blotted out the exact amount I paid for this cue, but even over twenty years ago they were very expensive.
Ray Schuler (signed) vintage Pool Cue. Wood with no wrap or inlays. The finish is in very good, but not quite perfect condition. As seen in the photographs near the rear of the cue there are two small dings/defect in the finish that do not affect the playability of this cue. Not being an expert on these cues I cannot say exactly which model it is. The beauty of these cues is that a wide variety of different shafts were (and are still being) made. There is a chance that this is still the original tip on the cue.
If I ever changed it, I just do not remember. Also, on the shaft there is one very small ding which you can sometimes feel while stroking the cue. It is barely there and it never affected my play. Written around the joint is 27.5, TP I think? Anyway, I no longer have a table.
Also, bad elbow pain has prevented me from using this for a number of years. It is time for this cue to find a new home.
The case is starting to show its age. But, as a freebie, it should do the job of getting the cue to you in good shape. Note: During the time I have owned this cue, no one else was ever allowed to touch or shoot with it. When not in use it has always been stored in moderate temp and humidity-inside a case. It really has been a well taken care of-one owner cue. But someone out there now has a chance to acquire a really nice pool cue. The item "Vintage Polished Walnut Schuler Pool Cue, Signed, Set-Up and Delivered by Ray" is in sale since Wednesday, January 30, 2019.
This item is in the category "Sporting Goods\Indoor Games\Billiards\Cues". The seller is "photoemporium" and is located in Highland Park, Illinois.
This item can be shipped worldwide.
Brand: Ray Schuler
Weight: @19 oz
Cue Type: Two-Piece
Country/Region of Manufacture: United States
Model: Walnut with no wrap or inlay
Length: 57"